Keeping your tires in good condition is an important part of vehicle ownership. Otherwise, you'd have a large chunk of metal that can't go much of anywhere. However, there are other factors that make tires an important part of your vehicle.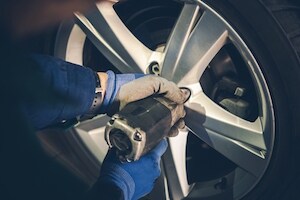 If your tires are damaged or worn out, your vehicle could suffer from decreased fuel efficiency and performance. Not only that, but damaged tires can be extremely dangerous. If your tires are old or showing signs of wear, it's important to schedule a service appointment as soon as possible.
The certified professionals at Fred Beans Ford of Newtown can help you with tire repair or replacement if needed. If you live in the Newtown, Langhorne, or Southampton areas and need tire repair or replacement, please contact us to schedule service.
Tire Repair: What to Look For
Here are a few of the top symptoms of damaged tires:
Worn Tires: If your tire tread is severely low, you'll want to replace them promptly. Failure to do so could result in a loss in traction or road grip. To measure tread yourself, consider using the penny trick or checking for the built-in tread indicator bars.
Blisters, Bulges, Splits, etc.: Any sign of damage to your tires should be a signal that you shouldn't drive on them. Your tire could fail without warning and put you in a potentially dangerous driving situation.
Pressure Issues: Low tire pressure can affect the vehicle's stability and fuel economy. If your tires are frequently low on pressure, there may be a leak. You should schedule a service appointment right away.
Vibrations: It's normal to feel some vibration when the car is moving at speed, but unusual vibrating could be a warning sign of tire damage.
In Need of Tire Repair?
If you're in need of tire repair or replacement, the team of certified technicians at Fred Beans Ford of Newtown can help. We have years of experience repairing tires of all sizes.
For tire repair or replacement near Newtown, Langhorne, or Southampton, contact us now.   
Make an Inquiry
Hours
Monday

9am-8pm

Tuesday

9am-8pm

Wednesday

9am-8pm

Thursday

9am-8pm

Friday

9am-8pm

Saturday

9am-5pm

Sunday

Closed