Finding a vehicle that fits your needs can seem daunting, especially when there are so many options available on the marketplace today. To aid you in your search, Fred Beans Ford of Newtown put together a list of Ford vehicle comparisons.
We've compiled a library of comparisons for each Ford car, truck, and SUV. It's important to see how Ford's lineup stacks up against competitors before visiting a dealership, and we hope drivers around Southampton, Newtown, and Langhorne find them helpful when searching for their next vehicle.
All of our Ford comparisons live on this page. Before scheduling a test drive, use our comparisons to learn how each Ford compares to other models on the market.
Why Read Ford Car Comparisons?
Reading Ford vehicle comparisons can help you navigate today's oversaturated automotive marketplace. Car shoppers have more options than ever, so finding the right vehicle for your commute, family, or work needs can seem overwhelming.
Vehicle comparisons are a great tool for learning about your different options. Whether you're in the market for a sleek sedan or sporty convertible, comparisons can give you an idea of what's available on the market and what's the best fit for your driving routine.
We recommend reading as many vehicle comparisons as you can before visiting a dealership. That way, you'll know exactly what car you want and where it stands compared to the competition. After all, you'll be driving your next car for several years, and you want to be 100% satisfied with it. Reading comparisons helps ensure you pick a vehicle that's the best fit for you.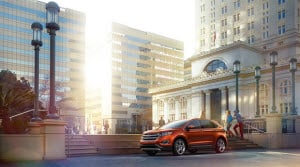 Read Our Ford Comparisons!
If you're in the market for a new car, but aren't sure which one is right for you, check out the comparisons our team at Fred Beans Ford of Newtown put together. Each provides tons of helpful information to help Langhorne, Newtown, and Southampton drivers choose the best car for their needs, and we hope you find them helpful during your search for your next car.
If you have any questions, please contact Fred Beans Ford of Newtown online.