Light-duty pickup trucks are more popular than ever, and while the field isn't as crowded as the sedan or SUV field is, it's every bit as competitive. There are, naturally, perennial leaders in the field, brand names that identify the nature of the class. Among these manufacturers are Ford and GMC, with their vehicles, the F-150 and the Sierra.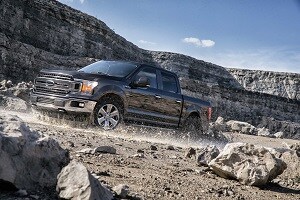 It's only natural that fans of these trucks in Newtown, Southampton, and Langhorne constantly debate about which one is the better option. Let's put that debate to rest once and for all. Check out what happens when two high-performing light-duty pickups battle as the 2018 Ford F-150 goes up against the 2018 GMC Sierra.
Performance Specs
When it comes down to sheer performance, both trucks are solid. However, the Ford F-150 works harder and performs better right from the base level. Its 3.3L V6 engine puts out more horsepower than the Sierra's base 4.3L V6 (Ford gives you 290 horsepower vs. GMC's 285). Even maxing out the ratings, Ford wins-its highest power engine gives you 450 horsepower and 510 lb-ft of torque, while the Sierra only has 420 horsepower and 460 lb-ft of torque.
Towing & Hauling Capacity
Ford also excels when it comes to towing and hauling capacity. When properly equipped, it can tow up to 13,200 pounds, while the GMC Sierra can only handle 12,500 pounds. Hauling capacity puts the Ford F-150 ahead as well; it has a payload of 3,270 pounds, as compared to the Sierra's payload of 2,250 pounds.
Fuel Economy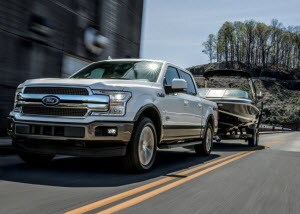 Looking for great fuel economy? The Ford F-150 gets an EPA-estimated 20 city/26 highway MPG, where the Sierra gets only 18 city/24 highway MPG. The Ford EcoBoost® V6 engine is an outstanding powertrain that not only gives you more power, but requires fewer stops at the gas station.
Technology & Sophistication
While the GMC offers some luxury features in the cabin, it should perhaps focus a bit more on doing what a pickup should do: perform. Ford offers everything from a Pro-Trailer Backup Assist™ system to high-end Adaptive Cruise Control with stop-and-go. It also offers the Ford SYNC® 3 technology interface, one of the most celebrated infotainment systems on the market today. From top to bottom, it's built to be a workhorse that also offers the very best in performance and drivability.
Unfortunately, the Sierra doesn't offer anything like the Pro-Trailer Backup Assist™ system, since this is a class-excusive feature.
Vehicle Customization Options
Ford also gives you far more choices when it comes to customizing your vehicle. There are three different body styles, five engine options, and seven trim levels. The Sierra comes with three body styles, as well, but only four engines and five trim levels.
So, if you're looking to build a vehicle tailored to your tastes, your best bet is to go with the 2018 Ford F-150.
Drive the Ford F-150 at Fred Beans Ford of Newtown
If you're in the Newtown, Langhorne, or Southampton area, then you can check out the 2018 Ford F-150 for yourself. Just stop into Fred Beans Ford of Newtown and ask us about taking a test drive today!