Any driver in Southampton, Newtown and Langhorne who has been thinking about purchasing a new vehicle should think about choosing a compact SUV, and in this popular class, there are two vehicles that rise to the top, the Ford Escape and the Honda CR-V.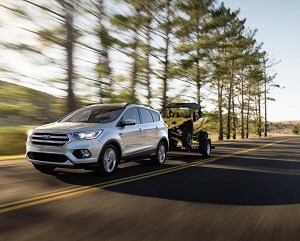 These vehicles have long been popular choices in the compact class and are back for the 2018 model year with an array of exhilarating features. Find out whether the 2018 Ford Escape or the Honda CR-V is the best compact SUV on the market by comparing some of their most exciting features.
Contrasting Capability
SUVs are designed to be vehicles that are ready for adventure, and if you want to make sure you're choosing the right SUV for you, a good starting point is comparing the engine power that you'll be able to choose.
All trims of the CR-V are powered by an inline 4-cylinder engine that produces 190 horsepower. While this might be enough for most drivers, those who want to be able to overcome any challenge need the Escape and its available 2.0-liter EcoBoost engine that is rated at 245 horsepower and can tow up to 3,500 pounds with the proper equipment. When it comes to power, the clear winner is the Ford Escape.
Competing Technology Features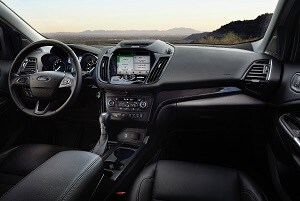 If you want to make sure your time on the road is as fun and convenient as possible, then you need to choose a compact SUV that provides a useful selection of technology features. Compare the tech of the 2018 Ford Escape and the Honda CR-V and you should get a clearer picture of which SUV meets your needs.
Both vehicles provide advanced infotainment systems with available navigation and smartphone integration via Apple CarPlay/Android Auto. However, only in the Escape will you find an available Wi-Fi Hotspot that will help you and your passengers stay connected on a long road trip.
Selecting Safety Features
Like most modern vehicles, the Ford Escape and the Honda CR-V are committed to driver and passenger safety, providing a bevy of active safety features that the most cautious drivers will be sure to appreciate. However, there are some differences that you should consider.
Choosing either of these vehicles means having access to safety systems such as adaptive cruise control, lane keeping assist and forward collision warning. The difference is that the Escape has received an NHSTA 5-Star Crash Rating, the highest mark of this organization. The Escape also features a front-seat Personal Safety System that includes dual-stage airbags for comprehensive protection.
Pick the 2018 Ford Escape
In an extremely close competition, the compact SUV that proved itself to be the cream of the crop was the Ford Escape, which outmatched the CR-V thanks to more impressive performance, advanced technology and a wider range of safety features. See the 2018 Ford Escape in action by visiting Fred Beans Ford of Newtown and scheduling a test drive.
Car shoppers from communities such as Langhorne, Newtown and Southampton can easily find their perfect vehicle at Fred Beans Ford of Newtown. If you've been thinking about purchasing a new or pre-owned vehicle, visit our lot so that you can browse our inventory.