When it comes to full-size, light-duty pickup trucks, Ford and Ram are consistently at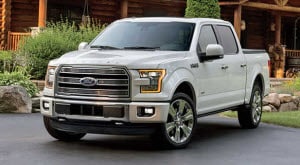 the head of the pack. It's just hard to beat the complete range of features you get from both manufacturers in terms of power, performance, comfort, technology, towing, and hauling capacity. In fact, drivers all over the Philadelphia area, including Newtown and Langhorne, are constantly debating whether the F-150 or Ram 1500 is the better truck overall. 
While both trucks are outstanding light-duty vehicles, offering a range of high-quality options, one has to come out on top in a direct comparison. Explore the similarities and differences of the 2018 Ford F-150 and 2018 Ram 1500 so you can see which truck is the better one for your needs.
2018 Ford F-150 vs. Ram 1500 in Performance
When it comes to performance, the Ram 1500 puts up a powerful fight, boosted by a 3.6-liter V6 base engine putting out 305 horsepower. It's also upgradeable to an impressive 5.7-liter V8 that can put out 395 horsepower.
However, it's hard to beat a truck like the Ford F-150 with an astounding five engines to choose from. Of these, four deliver more horsepower than the base Ram engine, and the top-end F-150 engine puts out a 450 horsepower, giving it the clear edge in terms of engine power.
Towing and Hauling Capacity
There's really one main reason why people choose a pickup truck as their vehicle of choice, and that's because they're going to haul and tow. As a result, the most important aspect of any pickup is its payload and towing capacity. The regular cab configuration for the new Ram 1500 can haul 1,560 pounds. When the Ram 1500 is equipped for maximum hauling, it can carry 1,880 pounds of cargo. Overall, its maximum towing capacity is 10,640 pounds.
The Ford F-150, by comparison, can haul up to 1,700 pounds of cargo at its base and can carry up to 3,270 pounds at its maximum cab configuration. Thus, its utmost towing capacity is a class-leading 12,200 pounds. In this area, the Ford is a tougher truck with far better towing and hauling performance.
Technology
Technology is another important aspect of any vehicle these days. Unsurprisingly, the Ford F-150 delivers here as well. The new Ford SYNC Connect technology gives you an available Wi-Fi hot spot, so you remain connected wherever you go. The Ram 1500 offers the Uconnect infotainment system, but it doesn't give you a hot spot.
 In the end, while the Ram offers a great technology package, the Ford comes out ahead again.
Test Drive the Ford F-150 at Fred Beans Ford of Newtown
Although the new Ram 1500 is an outstanding light-duty pickup truck, the 2018 Ford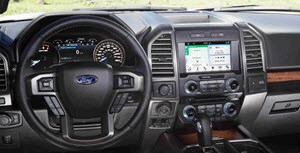 F-150 ultimately pulls ahead in performance, towing and hauling, and technology.
If you happen to be in the Philadelphia area or the surrounding towns of Newtown or Langhorne and you'd like to test drive a Ford F-150, Fred Beans Ford of Newtown is ready to help. Give us a call or stop in to our showroom to ask about scheduling a test drive today!