Residents of Newtown, Langhorne and Southampton know what it's like to work hard, so they need a truck that works just as hard for them. Trucks have the strength, storage capacity and tech to get the job done as efficiently as possible. Some trucks can be pretty old, though, so it might be time for an upgrade.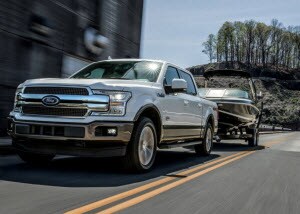 Fortunately, there are new trucks on the horizon. The 2018 Ford F-150 is particularly promising. This stunning truck has all the strength, space and tech required to exceed your expectations. Learn about the impressive features of the 2018 Ford F-150 in this detailed review.
Built Tough
Ford trucks are known for being tough, and the 2018 F-150 doesn't disappoint with its 450 horsepower. The truck is physically impressive without using conventional steel. Instead, the truck uses military-grade aluminum alloy, which is lighter yet stronger than conventional steel.
The 2018 F-150 also features the Raptor trim, which excels at off-roading. If you plan on taking your truck through mud, sand, snow or virtually any other kind of environment, the Raptor makes it easy with its Torque-On-Demand and FOX Racing Shox features. These make traversing rough terrain easy, keeping you firmly in control.
Capability
The shining achievement of the 2018 F-150 is just how good of a truck it is. No matter the project, the F-150 makes it effortless to do. It offers a massive payload capacity of 3,270 pounds with the right equipment, which is highest in its class. The aluminum alloy frame allows for this incredible achievement.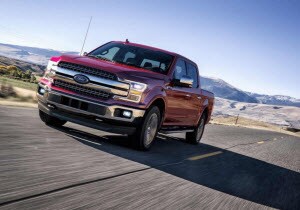 The F-150 is also best in its class at towing. It's the only half-ton truck than can safely pull 13,200 pounds. This impressive capability is easy for you to take advantage of using the F-150's numerous smart towing features. Pro Trailer Backup Assist aligns the truck and trailer when reversing to make backing up easier. The Factory-installed trailer brake controller also allows you to make the truck and trailer brakes work together.
Technology
You work hard enough already, so you need a truck that works for you, not the other way around. Fortunately, the 2018 F-150 contains many technological features that make your work more efficient. The eight-inch productivity screen helps you keep track of important data, like towing information and fuel economy.
SYNC Connect is an incredible feature Ford offers that allows you to connect your smartphone to your truck. You can access various apps from the interface inside, but the FordPass app allows for additional features. With FordPass, you can remotely control certain features, like the locks, engine start and the truck's status. You can even put the engine start on a schedule, so you don't have to wait.
Test Drive the 2018 Ford F-150
The 2018 Ford F-150 was made to work for you. It can get you where you need to go with style, efficiency and strength. This truck is the best in its class in terms of payload and towing capacity, offering you an experience like no other. Experience it yourself at Fred Beans Ford of Newtown.
All drivers in the Newtown, Langhorne and Southampton are invited to test drive the new 2018 Ford F-150. Our expert team is excited to showcase this impressive truck along with all the other vehicles in our expansive inventory. The team at Fred Beans Ford of Newtown is dedicated to finding the best truck suited for your needs. Visit us or call us to schedule your test drive today!